July 27 (TWIVC Newsletter #01)
Welcome to the inaugural edition of This Week in VC!
Please subscribe to stay updated with new posts and the weekly newsletter!
This is a weekly newsletter covering the top stories in startups, venture capital, and cutting-edge technologies. The newsletter is organized into three sections: a recap of the biggest stories of the week, a long-form deep dive into a specific topic, and a profile of a lesser-known fund.
Without further ado, let's hop in!
---
Weekly Recap
Ant plans a monstrous IPO

The Chinese FinTech behemoth has announced its long-awaited public offering, with plans for a dual listing in Shanghai and Hong Kong. Experts anticipate a valuation of over $200 billion for the mobile payments company, which supersedes some of America's largest banks like Goldman Sachs and Wells Fargo. Unreal. Alibaba shares closed 5% higher on the news of Ant's listing, with the e-commerce giant holding a 33% equity stake in Ant Group. It's quite an exciting offering that should provide some life and energy to the IPO calendar in 2H'2020 after the exceptionally quiet 1H'20 due to the effects of COVID-19.

SpaceX launches for more capital

Elon Musk's (Penn Alum!) space technology unicorn is in talks to raise more capital this week. The reusable rocket manufacturer is discussing a capital raise of $1 billion at $270 a share, valuing the company at $44 billion. Analysts believe the firm could ultimately be worth $175 billion (Morgan Stanley), with SpaceX's potential to be a catalyst for the exponential expansion of the space economy. I believe it will eventually be worth much more, but I'm also an aerospace fanatic. SpaceX has raised $3.5 billion to date, and expects Starlink (SpaceX's internet business) to begin generating cash flow in 2033. Current investors include Founders Fund, Google, Fidelity, Valor Equity Partners, etc.

TikTok dances to a possible sale

ByteDance, the parent company of the infamous video app, has begun considering options for a potential sale of the majority stake in the company this week after threats from the Trump administration and sanctions from countries like India. Federal officials have come after the app in recent weeks, citing privacy and censorship concerns linked to ByteDance's proximity to the Chinese government. Potential investors including Sequoia, NEA, and SoftBank have been reported to be in talks with ByteDance.

Jamf skyrockets post-IPO

The Apple device enterprise management leader had its initial public offering this week, jumping from $26 to $39 a share. Good stuff. Jamf grew 40% YoY to $225mn in ARR (annual recurring revenue), with the stock trading at 20x ARR in Q1 2020. The IPO resulted in a $4.6 billion market cap and $320 million raised, which will be used to clear off debt. The future looks good, with 40,000 enterprise customers and a year's worth of cash operating expenses at their 2019 run rate.

Hippo raises a hippo-sized round

Insurtech startup Hippo raised $150 million in a series E round, bringing its valuation to $1.5 billion. Investors in the Series E round include FinTLV Ventures, Ribbit Capital, Dragoneer Investment Group, and Innovius Capital. The company begin selling insurance policies to homeowners in 2017, and is now available in 29 states. Hippo recorded YoY sales growth of 60% in Q2 2020, and YoY written premium growth of 140%, largely attributable to the pandemic. Lemonade (a fellow insurtech provider) quite recently went public, showing maturity in the space.

Life science sees a growth-spurt in funding

In 1H'20, the life science industry has seen tremendous amounts of capital pouring in, compared to the lackluster venture funding overall. The sector saw 44 supergiant funding rounds of $100 million or more, and over $16.6 billion distributed among 450 deals in biotech and life science. It's on fire. While COVID-19 therapeutics and technologies may be a contributing factor, it's not the only catalyst behind the swift growth in the area. Such large deals are indicative of limited opportunities in the space and high investor interest. Sana Biotechnology, a developer of regenerative medicine therapies using stem cells, snagged $700 million in its *first* venture round, showing the insane amounts of capital flooding the sector.
---
VC Profile
I like to profile lesser-known venture funds who are focused on impact investing, run specialized mandates, or have a diverse set of GP's leading the fund. Let me know if you come across an interesting fund!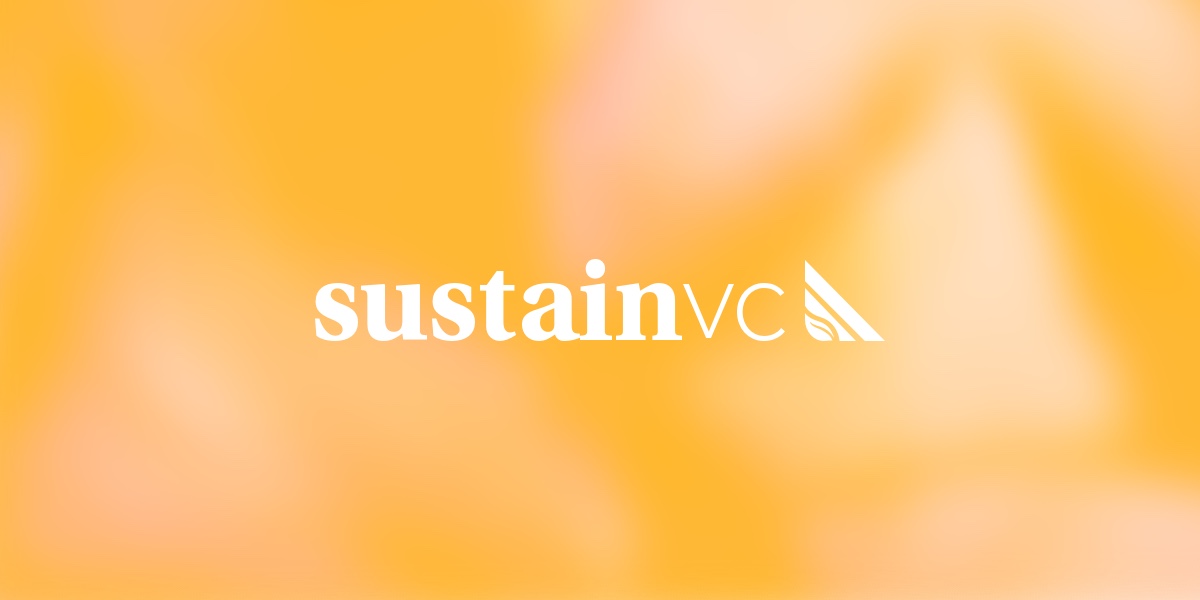 This week, I'll be profiling SustainVC, an impact investing fund based in Boston, Massachusetts.
SustainVC backs innovative entrepreneurs that share a vision of a sustainable, more equitable, and healthier world. They target seed – Series A rounds of $250,000 - $1 million in early-stage, high-growth startups, and actively engage and support their portfolio companies through growth and exit. The three main verticals they focus on include: Climate and Sustainability, Equality and Empowerment, and Health and Education.
SustainVC announced their Impact Fund II last year, a $25 million fund that aims to reduce carbon emissions by 100 million lbs/yr while supporting more than 1,000 jobs through their portfolio companies. Half the fund's capital is targeted towards women and minority-owned firms, an especially relevant focus given the national discussion around systemic racism that has emerged.
I'm especially excited by their involvement in companies like:
Aunt Bertha, a SaaS platform to find and apply for social service programs

Ocean Renewable Power Company, an engineering firm developing emission-free, renewable power from tides and rivers

MoCaFi, a digital platform providing the underserved with access to mainstream financial services.
Notable exits include:
Boston Heart Diagnostics creating blood diagnostics for better cardiovascular care

Transloc, a software company creating innovative technology for transit agencies
While they don't have the AUM as many of the industry titans may have, they choose their portfolio companies carefully and strategically to provide them with the best opportunity to accomplish their social and environmental goals. Their slogan mentions, "Positive Impact. Positive Returns", and that is clearly visible in their portfolio companies' efforts in reducing CO2, improving access to social and financial services, and making healthcare more equitable and impactful.
---
Longform: The SPAC Boom
SPAC's are all the buzz now. If you've been living under a rock, you might not have heard about the recent announcement by hedge-fund manager Bill Ackman to unveil a $3 billion share offering for a blank check company called Pershing Square Tontine Holdings. This is the largest IPO of a SPAC ever, giving it the potential to take public a private firm worth tens of billions of dollars. Pershing Square Tontine Holdings raised $4 billion and traded up 6.5% on its first day public last Thursday.
Blank check companies, known as special purpose acquisition companies (SPACs), raise capital from the public markets through an IPO for the sole purpose of acquiring a different company at a later date. The blank check company has no technology, no IP, no tangible assets, but the sole mission to acquire a company in a year or two with the funds raised from the IPO. Investors buy shares of the holding company on the public markets in hope to gain a return on their investment in a few years once the acquisition goes through. For the target firm being acquired, it's a back door method of doing an IPO that avoids the rattled IPO market and wild volatility in the time of COVID-19.
Ackman has some experience in this area; he backed a SPAC in 2012 that acquired Burger King for $1.4 billion, which later merged with Tim Horton's to form Restaurant Brands International, which has generated a 20% compound annual return since the original IPO. Although, his current SPAC will be targeting a very different business – specifically, he's targeting a late-stage venture backed company, or a mature unicorn. Names like Airbnb, Coinbase, Robinhood, Stripe come to mind. In fact, CEO Brian Chesky stated that Airbnb has been approached for a SPAC opportunity, opening the door to a potential deal.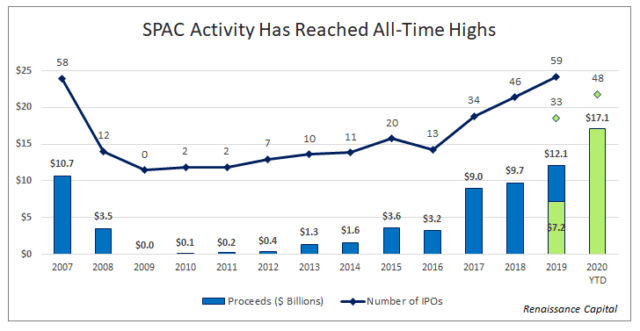 In 1H'2020, over $17.1 billion of funding was raised by 48 SPACs, compared to $4 billion in FY 2015. More PE funds and startups are becoming interested in taking that route, as evidenced by the number of companies using blank-check deals to go public. Sports-betting operator DraftKings and electric-truck manufacturer (and Tesla competitor) Nikola used SPACs to go public this year, following Virgin Galactic's public offering via SPAC last year. ($SPCE to the moon!) Several other companies have stated their considering SPAC deals later this year, including Topgolf, Hims, Utz Chips, etc.
Let's go back to a central debate about SPACs – why would a company decide to go the SPAC route rather than a standard IPO?
The best answer for this can be explained by convenience, speed, and reliability. Traditional IPOs require several months of planning and negotiating to settle pricing, valuation, and scope with numerous IPO investors, while SPACs involve just one acquirer, and can be settled much quicker. Furthermore, there is a greater certainty in a completed deal via a SPAC, as the need for road show fundraising disappears. The wholly botched WeWork incident is an excellent example of the dangers of direct listing; the offering was canceled after investors whiffed at the IPO prospect and overvaluation (of nearly $50 billion!) of the company. If WeWork had used a SPAC, they would have had a much smoother negotiation and valuation process. Traditional IPOs also heavily rely on market timing, and the volatility driven by the pandemic has caused many companies to become wary of filing during such uncertainty. On the other hand, SPACs are less tied to the swings of the market as the money raised by the SPAC sits still in a trust until an acquisition is made. As companies look for liquidity, SPACs fill a void left by traditional IPOs and provide stability and reliability in the face of constant market shifts.
SPACs have also become more and more attractive to investors as exit opportunities. For years, investors complained about the gap between the IPO price and the first trade price of a company, as they believed that gap is money that bankers and the IPO process itself has stolen. For example, Jamf was priced at $26/share, but traded at $39/share – a direct picture of the inefficiencies in the IPO process. There are huge profits to those who get allocations in an IPO, but a large majority of investors miss out on such profits. SPACs reduce that market inefficiency through a different pricing mechanism, allowing for price stability and greater investor opportunity.
Decades ago, SPACs were associated with penny-stock fraud schemes, leading to a bad brand, but a new set of regulations and the introduction of elite and reputable firms have led to a new reputation for the financing scheme. As we see the rise of the new age of SPACs, I wonder if the trend is here to stay.
---
Addendum
Thanks for reading the first edition of This Week in VC! Please subscribe to stay updated with new posts and the weekly newsletter. If you have any suggestions, comments, or ideas, please feel free to reach out to me at rohil at upenn dot edu.
References
1: https://www.wsj.com/articles/blank-check-boom-gets-boost-from-coronavirus-11594632601
2: https://www.nytimes.com/2020/07/14/business/dealbook/spac-blank-check.html
3: https://seekingalpha.com/article/4360594-bill-ackmans-pershing-square-tontine-joins-long-list-of-2020-spac-milestones 4: https://pitchbook.com/news/articles/spac-surge-points-to-shifting-ipo-landscape-and-video
5: https://www.fool.com/investing/2020/06/26/bill-ackman-is-raising-3-billion-to-acquire-a-matu.aspx
6: https://pitchbook.com/profile/55459-00/investor/profile
7: https://news.crunchbase.com/news/insurtech-unicorn-hippo-raises-150m/
8: https://techcrunch.com/2020/07/22/jamfs-ipo-underscores-hot-demand-for-tech-shares/
9: https://www.cnbc.com/2020/07/21/alibaba-ant-group-ipo-hong-kong-shanghai-explained.html
10: https://www.ft.com/content/0ede30bb-ef34-436e-89d5-f62a02b78aa0
Written on July 26th, 2020 by Rohil Sheth
Feel free to share!